Jacksons Executive Chef Scott Croyle
"Seasonal," "farm-to-table", "artisan," "hand-crafted" – it's no secret restaurants love throwing around buzz words. And depending where you go, these terms can mean vastly different things. But what diners really want is simple: a delicious, freshly-prepared, high quality meal.
At Jacksons, we make fresh happen by rolling out an entirely new menu four times per year—once for each season. Located adjacent to the Hilton Garden Inn Pittsburgh/Southpointe for more than 15 years, our restaurant is a long-standing favorite among Canonsburg residents, but thanks to our chef-powered innovation the menu never gets old.
The Jacksons social media team sat down with Scott Croyle, executive chef at Jacksons Restaurant + Bar, to find out what really goes on behind-the-scenes to make each menu rollout happen (and just what it is that makes our favorite dishes oh so good).
From Farm [to Menu] to Table
Although it seems fresh Spring-inspired items just hit the menu not long ago (including some of our newest favorites like the Skuna Bay Salmon, Ginger Seared Scallops, and Asparagus Ravioli, all rolled out this March), Chef Croyle is already nearing the final stages of menu development for this summer.
When it comes to crafting a new season's menu, Croyle takes the lead by identifying signature menu items, in-season ingredients, and forward-thinking flavors. Vincent Perri, Executive Chef at Revel + Roost, Jacksons' sister restaurant, provides chef-to-chef advice to help secure the best sourcing of ingredients and share what has worked at his location in downtown Pittsburgh.
Once establishing the big picture, Croyle bounces ideas off the team at Jacksons, makes needed tweaks, and then coordinates with Paul Bazzano, our Executive VP of Operations, to put on the final touches.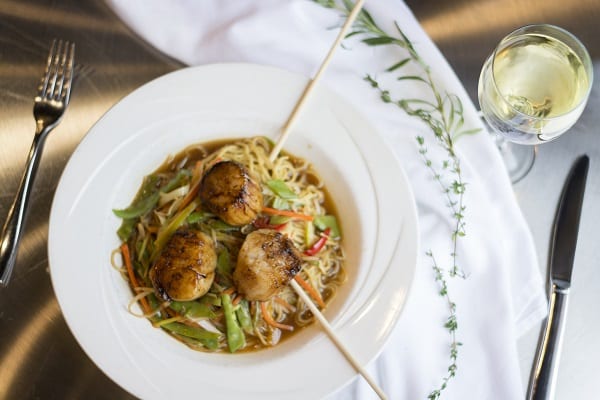 Ginger Seared Scallops, photo by Michelle Montana
Chef's Greatest Hits
Croyle draws inspiration from many sources, including what he calls his "greatest hits" portfolio. Developed over years from experience at various restaurants, this repertoire includes his favorite entrees, sauces, side dishes, and soups.
Guest feedback also plays a big role, helping him determine what items should stay on the menu, what should go, and what deserves a comeback. Depending on the season and availability, he also looks for ways to incorporate local and seasonal products that may not be available at other times of the year.
Consistency is Everything
"Consistency is everything," Croyle expresses, which is why he insists the final step of his menu preparation be excruciatingly thorough. Once the menu items have been decided-upon, Croyle breaks down each recipe with scientific precision to determine the exact proportions, preparation instructions, cost per ingredient, and plating. From there, it goes into his Dropbox file where he stores all of his recipe files broken down by season.
"It should taste exactly the same, no matter who makes it."
Save the Date: New Summer Menu Rollout
Jacksons summer menu is set to rollout on June 19th, 2017. Make your reservations today to be the first to taste the new summer flavors ready to hit the menu. #ExperienceJacksons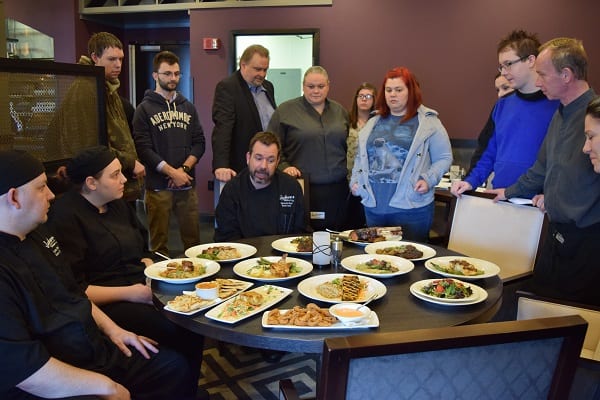 Chef Croyle presents new menu items to Jacksons team during a menu rollout event